Finding the Truth through Education  
St Catherine of Siena Catholic Primary School was established in 1984 and is dedicated to learning excellence in a faith-filled, engaged and supportive environment.
  School Vision Statement  
"Be who God meant you to be…
    Living the message of Jesus

    Nurturing relationships with God, self, others and the world

    Inspiring learning through creativity, curiosity and passion

    Empowering independence and growth to wholeness for all
…and you will set the world on fire.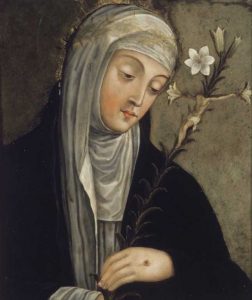 Jesus speaks to St Catherine of Siena
I gave you EYES to look at the sky and everything else and the beauty of
creation through me
I gave you your EARS to listen to my word and to pay attention to the needs of
your neighbours.
I gave you your TONGUE to proclaim my word, to confess your own sins, and
to work for the salvation of others.
I gave you your HANDS to serve your neighbours when you see them sick,
and to help them with alms in their need.
I gave you your FEET to carry you to places that are holy and useful to you
and your neighbours for the glory and praise of my name.